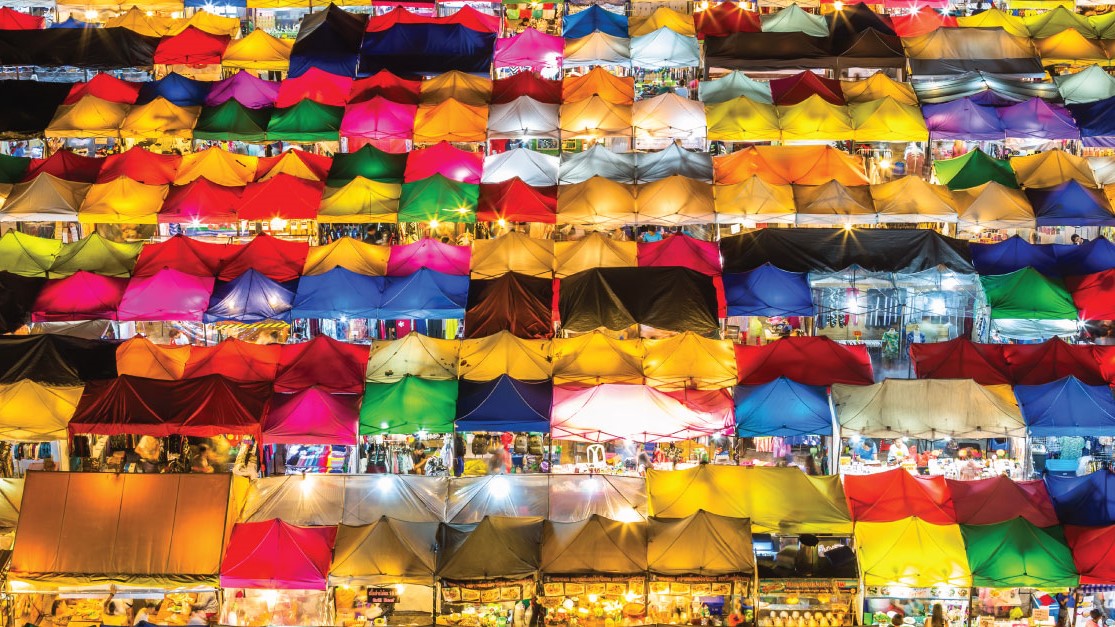 Discover The Vibrant Night Markets of Asia
Fully experience Asia's fascinating culture and culinary wonders by exploring the vibrant night markets. These lively hubs offer a lot of mouthwatering street food, one-of-a-kind souvenirs, and a glimpse into the local lifestyle. Join us on a journey through Asia's most iconic night markets and get ready for an unforgettable adventure.
SHILIN NIGHT MARKET
TAIPEI, TAIWAN
Prepare to indulge your taste buds at the renowned Shilin Night Market in Taipei. As one of the largest and most famous night markets in the city, it boasts a kaleidoscope of flavors and aromas. Sample Taiwanese delicacies like the infamous stinky tofu and sip on refreshing bubble tea as you navigate through the maze of food stalls. Don't forget to explore the eclectic mix of clothing, accessories, and other goods on offer.
PETALING STREET NIGHT MARKET
KUALA LUMPUR, MALAYSIA
Step into the vibrant heart of Kuala Lumpur's Chinatown and immerse yourself in the lively atmosphere of Petaling Street Night Market. This bustling market is a haven for bargain hunters and food enthusiasts alike. Lose yourself in a treasure trove of counterfeit designer items, local street food, and vibrant cultural experiences. Let the sights, sounds, and scents of Malaysia captivate your senses as you navigate through the vibrant crowd.
Shilin Market. Image via Sean Hsu / Shutterstock
Petaling Street Night Market via CO Leong / Shutterstock
BEN THANH NIGHT MARKET
HO CHI MINH CITY, VIETNAM
Situated in the heart of Ho Chi Minh City, Ben Thanh Night Market is a must-visit destination for locals and tourists alike. The market comes alive in the evening, offering a diverse range of street food, clothing, handicrafts, and souvenirs. Immerse yourself in the energetic atmosphere as you browse through the colorful stalls and embrace the vibrant spirit of Vietnam.
MYEONGDONG NIGHT MARKET
SEOUL, SOUTH KOREA
For shopaholics and beauty enthusiasts, Myeongdong Night Market in Seoul is a paradise waiting to be explored. This bustling shopping district transforms at night, showcasing a myriad of cosmetics, fashion items, and street food delicacies. Lose yourself in the bustling crowd as you discover the latest beauty trends, shop for stylish fashion pieces, and savor delectable street food treats.
Ben Thanh Night Market. Image via Tuan86 / pixbay
Myeongdong Night Market. Image via AKuptsova / pixabay
CHATUCHAK FRIDAY NIGHT MARKET
BANGKOK, THAILAND
While Chatuchak Market in Bangkok is famous for its weekend extravaganza, Fridays bring an extra dose of excitement as the market transforms into a vibrant night market. Experience the electric atmosphere as you wander through a maze of stalls offering a delightful array of fashion items, accessories, home decor, and, of course, mouthwatering Thai street food. Let the vibrant energy of Bangkok ignite your senses.
LUANG PRABANG NIGHT MARKET
LUANG PRABANG, LAOS
In the enchanting town of Luang Prabang, the night market offers a unique blend of tradition and charm. Set against the backdrop of colonial buildings, this market showcases an impressive assortment of handicrafts, textiles, artwork, and traditional Lao cuisine. Wake up early to witness the captivating alms-giving ceremony at sunrise, a spiritual experience that adds to the market's allure.
CHINATOWN STREET MARKET
SINGAPORE
Singapore's Chinatown Street Market is a vibrant tapestry of Chinese culture, filled with an eclectic mix of traditional goods, souvenirs, clothing, and mouthwatering street food. Stroll through the bustling lanes, soak up the festive atmosphere, and immerse yourself in the colors and flavors of this dynamic market. Don't miss the chance to visit during the Chinese New Year period when the market truly comes alive.
Chatuchak Friday Night Market. Image via Ong.thanaong / Shutterstock
Luang Prabang Night Market. Image via Michele Ricucci / Shutterstock
Chinatown Street Market. Image via cegoh / pixabay
Prepare to embark on a sensory adventure as your clients explore these captivating night markets in Asia. From savoring delectable streets. Contact us now and let us assist you in arranging an unforgettable trip to Asia for your clients.
Cover image via MoMMo Mai / Shutterstock