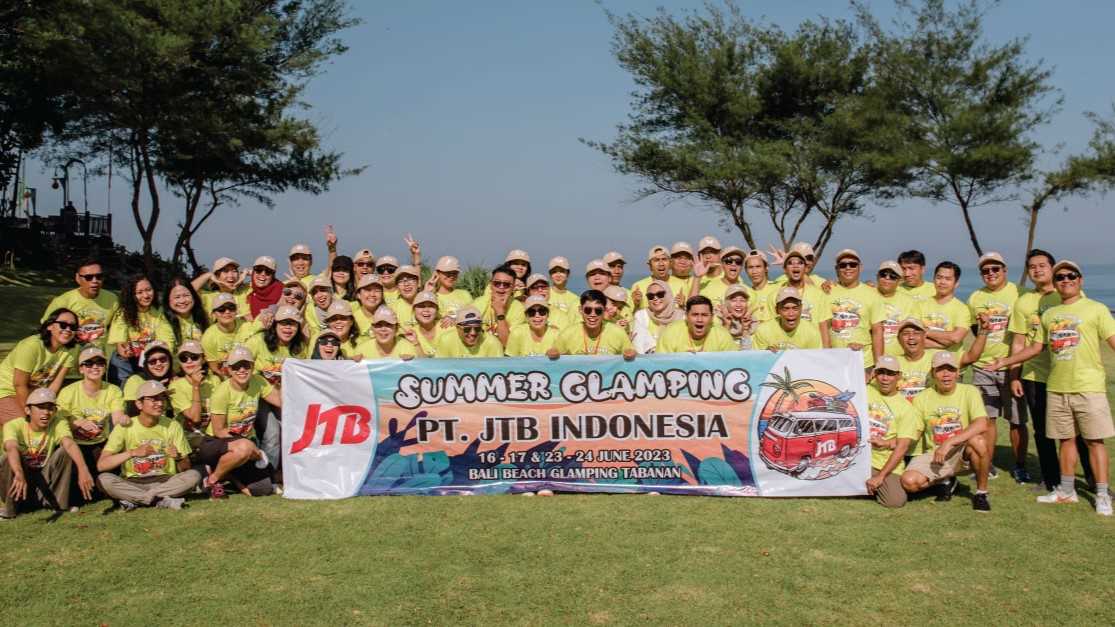 Strengthening Bonds and Celebrating Achievements: JTB Indonesia's Unforgettable Company Outing 2023
In an effort to appreciate the remarkable achievements of the past year and foster stronger bonds among its staff, JTB Indonesia recently organized a company outing event. Held in the breath-taking setting of Tanah Lot Temple and Bali Beach Glamping, this event combined exhilarating team-building activities, outdoor adventures, relaxation at a spa, and a memorable gala dinner. The outing served as a platform to celebrate accomplishments and reinforce the sense of unity within the JTB Indonesia family. Let's delve into the highlights of this memorable event.
TEAM-BUILDING EVENT: ENHANCING COLLABORATION AND CAMARADERIE
To kickstart the event, JTB Indonesia organized invigorating team-building activities that encouraged collaboration, communication, and camaraderie among employees. Various engaging team-building exercises, from problem-solving activities to trust-building exercises, were meticulously planned to challenge employees while fostering a sense of unity. The participants enthusiastically embraced the challenges, demonstrating their commitment to working together to achieve common goals.
ATV RIDES AND COUNTRYSIDE CYCLING
To inject a dose of excitement and adventure into the outing, JTB Indonesia organized an ATV ride and countryside cycling experience. Employees had the opportunity to embark on adrenaline-pumping ATV rides, exploring rugged terrain and enjoying breath-taking views of the island, or enjoying the serene beauty of the countryside on bicycles. This exhilarating escapade allowed employees to step out of their comfort zones, building resilience and fostering a sense of connection to nature and a deeper understanding of the local environment.
RELAXATION AND REJUVENATION
Recognizing the importance of employee well-being, JTB Indonesia ensured that relaxation was an integral part of the outing. Our staff members have the option to indulge in rejuvenating spa treatments or an elegant afternoon tea, which serves as an opportunity for colleagues to engage in casual conversations. The spa session not only allowed employees to unwind but also helped to build a sense of appreciation for their hard work and dedication, while the afternoon tea provided an opportunity for colleagues to bond in a more informal setting filled with laughter, heartfelt conversations, and the sharing of experiences, creating a warm and inclusive atmosphere.
GALA DINNER: A NIGHT OF CELEBRATION AND ACHIEVEMENTS
The pinnacle of the company outing was the gala dinner, where JTB Indonesia celebrated the achievements of the past year and recognized the hard work of its employees. This elegant affair was attended by all the staff, who gathered for an evening of appreciation and festivities. The event was adorned with live entertainment, including an acoustic performance, inspiring speeches that acknowledged the hard work and dedication of the team, and a flash mob that was participated in by all staff. Through this celebratory dinner, JTB Indonesia emphasized the collective success of the company and reinforced a sense of pride among its employees.

To conclude, JTB Indonesia's company outing event in Bali proved to be an outstanding success, fulfilling its objectives of appreciating past achievements and strengthening bonds between staff members. From team-building exercises to thrilling adventures, relaxing spa treatments to afternoon tea sessions, and the grand gala dinner, every aspect of the event was meticulously planned to create a memorable experience for employees. By investing in such outings, JTB Indonesia demonstrates its commitment to fostering a positive work environment where employees feel appreciated, motivated, and connected. Undoubtedly, this remarkable company outing will continue to resonate with the JTB Indonesia team for years to come, serving as a testament to their shared achievements and the enduring spirit of unity within the organization.
Article by Bagus Perbawa,
International Market Manager, JTB Indonesia
About Tour East
Established in 1972, Tour East Group is a full-service Destination Management Company operating B2B exclusively from 13 countries across Asia. With more than 500 travel professionals supporting our industry partners deliver exceptional personalized travel experiences and MICE programs in Cambodia, Indonesia, Korea, Laos, Malaysia, Maldives, Myanmar, Philippines, Singapore, Sri Lanka, Taiwan, Thailand, and Vietnam.
Tour East officially became a proud member of the Global DMC Network by JTB Group in 2014. Our network maintains operating and representative offices in key cities to ensure consistently high-quality standards wherever you are.