THE KINGDOM OF WONDER
Cambodia is located in mainland Southeast Asia between Thailand to the west and north and Vietnam to the east. It also shares a land border with Laos in the northeast and has a coastline along the Gulf of Thailand. The Dangrek Mountain range in the north and the Cardamom Mountains in the southwest serve as natural boundaries. This location is breathtaking, as it sits at the meeting point of three waterways: the Mekong and Bassac rivers and the expansive Tonle Sap Lake, integral to Cambodia.
Cambodia is the land of ancient temples, serene beaches, mighty rivers, and lush forests, with only a few tourists outside Angkor. After years of war and isolation, Cambodia has re-emerged and is now a popular destination. As the successor to the Khmer Empire, Cambodia has a rich culture, a historic French-inspired capital, breathtaking natural landscapes, and warm, friendly locals, making it a truly unique and satisfying place to explore.
About Cambodia
Airport code

Phnom Penh (PNH), Siem Reap (SAI), Sihanoukville (KOS)

Language

Khmer, English, Cham, and French

Currency

Cambodian Riel (KHR)

Country code

+855

Time zone

GMT +7

Electricity

230V, 50Hz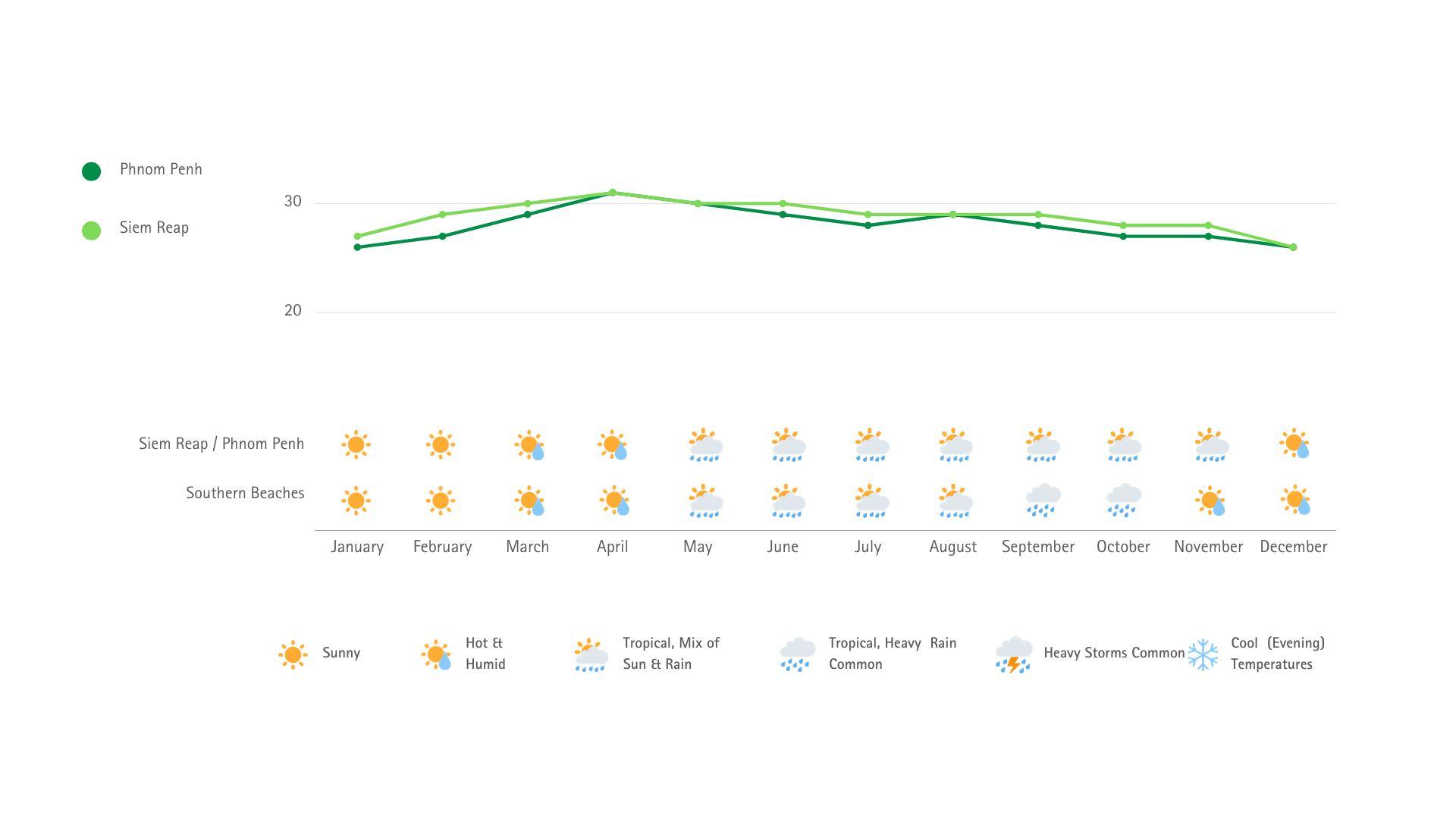 Recommended Hotels
Shinta Mani Angkor and Bensley Collection Pool Villas

An upscale boutique property created by acclaimed architect Bill Bensley, this exceptional hotel enjoys a tranquil and leafy setting within the French Quarter of Siem Reap.

Having brought to life Shinta Mani Angkor, Bill Bensley wanted to take the Shinta Mani experience to a more luxurious level, so he created an exclusive set of 10 villas with private pools. Set within the Shinta Mani Angkor Gardens, the Bensley Collection Pool Villas have their own facilities and Bensley Butlers to look after your every need.

Raffles Grand Hotel d'Angkor

The Grand Hotel d'Angkor first opened its doors in 1932, providing what was then considered to be "luxury" accommodation for the first wave of travelers coming to see the famous Angkor Temples. Set in over 15 acres of beautifully landscaped French gardens and built around its iconic swimming pools, the hotel provides a relaxing retreat from the temples and the bustling town of Siem Reap. Located in the best part of town, next to the Angkor National Museum and just a 15-minute drive from Siem Reap International Airport, it is only a short walk along the river to the town center, with its vibrant markets and trendy restaurants and bars.

Rosewood Phnom Penh

Rosewood Phnom Penh occupies the top 14 floors of Vattanac Capital Tower. Soaring 188 meters into the sky, the iconic building takes the form of a rising dragon oriented toward the east, offering unobstructed panoramic views of the city and the fabled Mekong River.
Tour East Cambodia
Address
Taken care by Tour East Thailand, a division of JTB (Thailand) Ltd., on behalf of Tour East Cambodia
54 Harindhorn Building, 9 Floor, Room 9C, 9D, 9E, North Sathorn Rd, Silom, Bangrak, Bangkok, 10500 Thailand
Our Team Members
Bandith Mao

Global Inbound Manager