Wonderful Indonesia
Indonesia, the largest country in Southeast Asia, is a land of unmatched diversity that calls out to be explored. With 17,000 islands and 700 languages, the island nation spreads over 5000km of tropical ocean. This diversity, combined with famed hospitality, billowing volcanoes, and abundant wildlife, make it an astoundingly bewitching travel destination. Laden with volcanoes, rice fields, lakes, idyllic beaches, and pristine wildlife, Indonesia is simply wonderful.
The people are as radically different from each other as the variety of landscapes you'll see, with every island a unique blend of the people who live there. Get ready to immerse yourself in the vibrant cultures and fascinating stories of the islanders, each one waiting to be discovered. Indonesia is a destination that caters to all interests, boasting options for foodies, culture enthusiasts, and nature lovers alike. The culinary scene is diverse and offers traditional dishes that tantalize taste buds. Cultural immersion opportunities abound with landmarks, temples, and museums. For adventure seekers, Indonesia's natural beauty is breathtaking, with opportunities for hiking, diving, and exploring rugged terrain.
About Indonesia
Airport code

Jakarta (CGK), Bali Denpasar (DPS), Lombok (LOP), Yogyakarta (YOG), Surabaya (SUB), Medan (KNO)

Language

Bahasa Indonesia and English

Currency

Indonesian Rupiah (IDR)

Country code

+62

Time zone

Jakarta GMT+07 / Bali GMT+08

Electricity

230V, 50Hz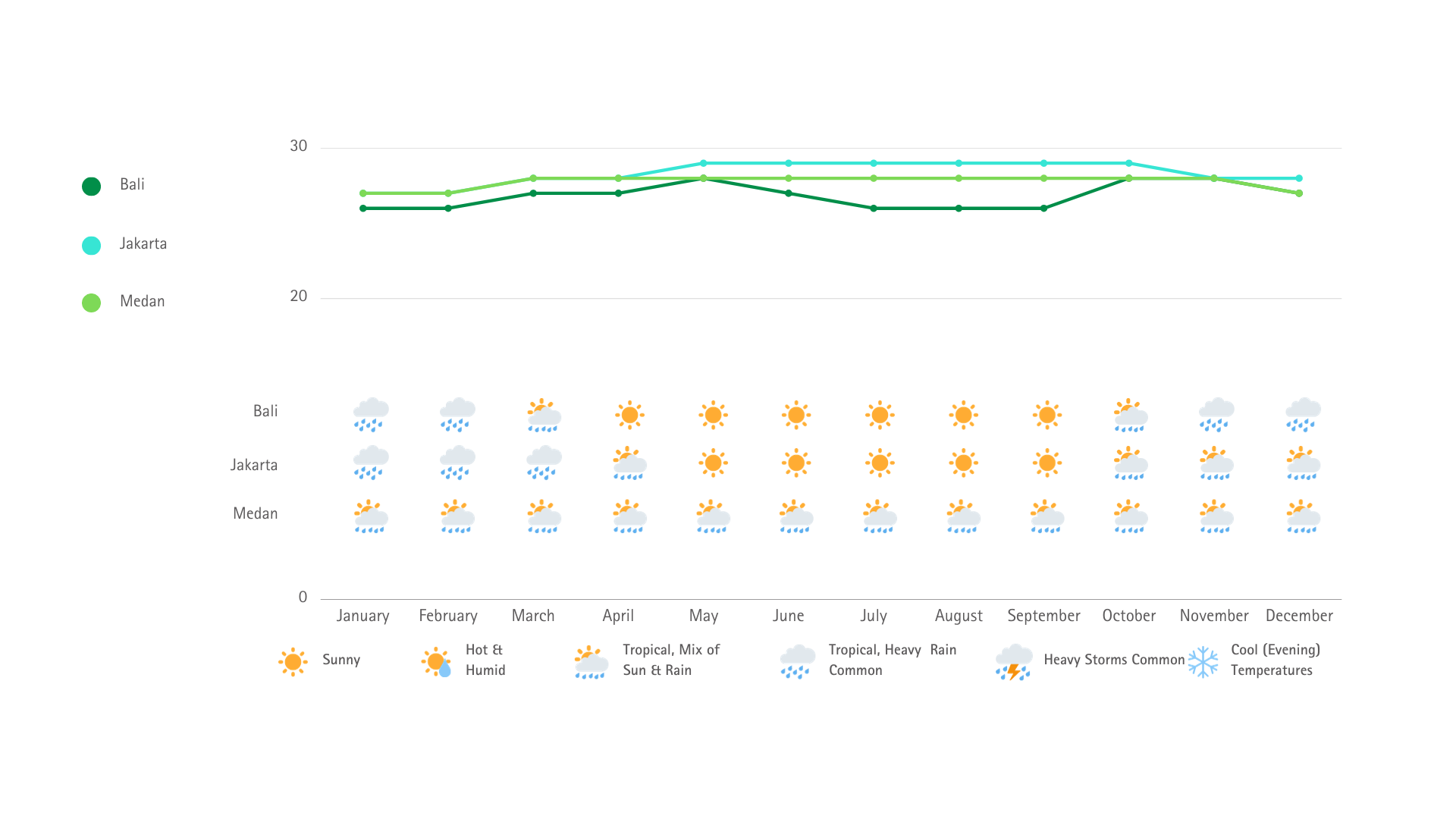 Recommended Hotels
Alila Seminyak

Unfurling along a pristine beach on Bali's southwest coast, mere steps from the Indian Ocean, Alila Seminyak ups the ante on tropical cool. A stunning beachfront resort that radiates sophistication, vibrancy, and vivacity, offering an indulgence of luscious lifestyle facilities and refined spaces for chilling out in style

The Apurva Kempinski Bali

Standing atop the majestic cliff of Nusa Dua, with breathtaking views of the Indian Ocean and tropical garden, The Apurva Kempinski Bali offers the epitome of beachfront luxury. This five-star hotel in Bali presents itself as a majestic open-air theater, an embodiment of Indonesian elegance. A collection of 475 iconic rooms, suites, and villas are showcased, with 60% of the accommodation featuring its own private plunge pools.

Melia Bali

Bali is the essence of paradise. In the south-east of an island known as the "Island of the Gods", this hotel, alongside the sea, is perfectly integrated with its exuberant and tropical natural environment. Enjoy all the privileges of a five-star resort with amazing facilities among the gardens and the swimming pools. Relax in spacious Indonesian-style rooms and savor all the exquisite variety in its exotic restaurants.
Tour East Indonesia
Address
A division of PT. JTB Indonesia
Jl. By Pass Ngurah Rai No. 88 Kelan Abian, Tuban, Kuta, Bali, 80361 Indonesia
Our Team Members
Mahalia Pantja

Deputy General Manager

Bagus Perbawa

Manager, International Market

Dody Dibyahari

Assistant Manager