The Heart of Asia
Discover the captivating blend of modernity and tradition in Taiwan! Visitors can indulge in the delicious street food, marvel at the iconic skyscrapers, and immerse themselves in the rich cultural heritage by visiting ancient temples and joining the bustling festivals. Taiwan offers dramatic and breathtaking landscapes, from the lush Taroko Gorge to the sun-kissed beaches.
Experience the warm hospitality, efficient transportation, and safe environment that make Taiwan a traveler's paradise. With a harmonious fusion of old-world charm and contemporary allure, Taiwan promises an unforgettable adventure for all.
About Taiwan
Airport code

Taipei - Taoyuan (TPE), Taipei (TSA), Kaohsiung (KHH)

Language

Standard Chinese and English

Currency

New Taiwan Dollar (NTD)

Country code

+886

Time zone

UTC +8

Electricity

110V, 60Hz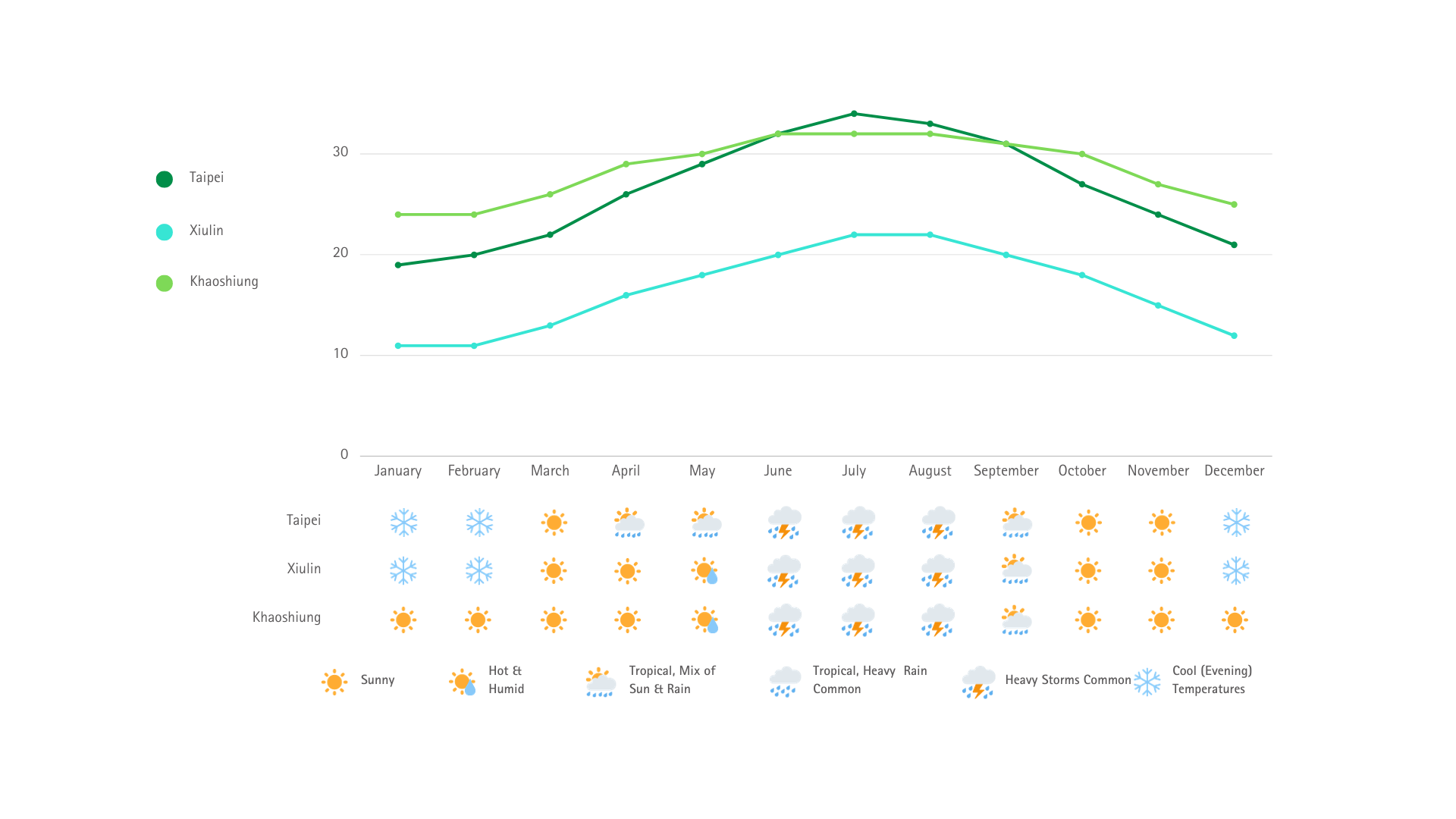 Recommended Hotels
Madison Taipei

Since the opening of the hotel in 2014, the hotel has offered easy access to Da'an Park, Taipei 101, Xinyi Shopping District, and MRT Station. With 124 rooms and suites, the hotel provides excellent 24-hour guest services with warm hospitality. The hotel is recommended by the Michelin Guide for 2018 and 2019.

Shangri-La's Far Eastern, Taipei

One of the tallest hotels with a great panoramic view of Taipei City The hotel offers 420 rooms and suites featuring contemporary design with Western and Asian taste. The hotel is located only a 10-minute drive from the Taipei World Trade Center, and the Xinyi Shopping District makes any guests comfortable getting around the city during their stay in Taipei.

Sheraton Grand Taipei Hotel

Located at the center of Taipei city, 688 luxury rooms welcome guests for all purposes. The hotel offers nine restaurants and bars, including the Michelin-starred "Guest House".
Tour East Taiwan
Address
JTB Taiwan
9F No. 60, Sec. 2 Zhongshan N. Road, Zhongshan Dist., Taipei City 104, Taiwan (R.O.C.)
Our Team Members
Atsushi Takamatsu

General Manager, Inhouse & Inbound Sales

Rebecca Shen

Manager, Inhouse & Inbound Sales

Nao Yoshida

Assistant Manager, Global Inbound Business

Nina Wang

Sales Executie, Global Inbound Business