To know Malaysia is to love Malaysia – a bubbling, bustling melting pot of races and religions where Malays, Indians, Chinese, and many other ethnic groups live together in peace and harmony. As a people, Malaysians are very relaxed, warm and friendly. Renowned as a 'Food Paradise,' Malaysia offers diverse cuisine at affordable prices, boasting Malay, Chinese, and Indian flavours. With Islamic and European influences, Malaysia is a unique centre of diversity in Asia.
Western Malaysia bridges tradition and modernity. Its dynamic capital, Kuala Lumpur, showcases iconic skyscrapers alongside historic temples and lively markets. Malacca, nestled along the Strait of Malacca, is steeped in heritage and cultural richness.
Penang, known as the 'Pearl of the Orient,' enchants visitors with its rich heritage, captivating street art, and global culinary scene. Langkawi, the 'Island of Dreams,' invites you to relax on pristine beaches, explore enchanting caves, and savour local delights.
Venturing to Borneo is a step into a realm of untamed wilderness and extraordinary natural wonders. Sabah entices adventurers with diverse landscapes, from Mount Kinabalu's towering peak to Danum Valley's lush rainforests, where endangered species roam freely. Dive enthusiasts flock to Sipadan Island for its turquoise waters and vibrant coral reefs.
About Malaysia
Airport code

Kuala Lumpur (KUL), Penang (PEN), Langkawi (LGK), Kota Kinabalu (BKI), Kuching (KCH)

Language

Malay and English

Currency

Malaysian Ringgit (MYR)

Country code

+60

Time zone

GMT +8

Electricity

240V, 50Hz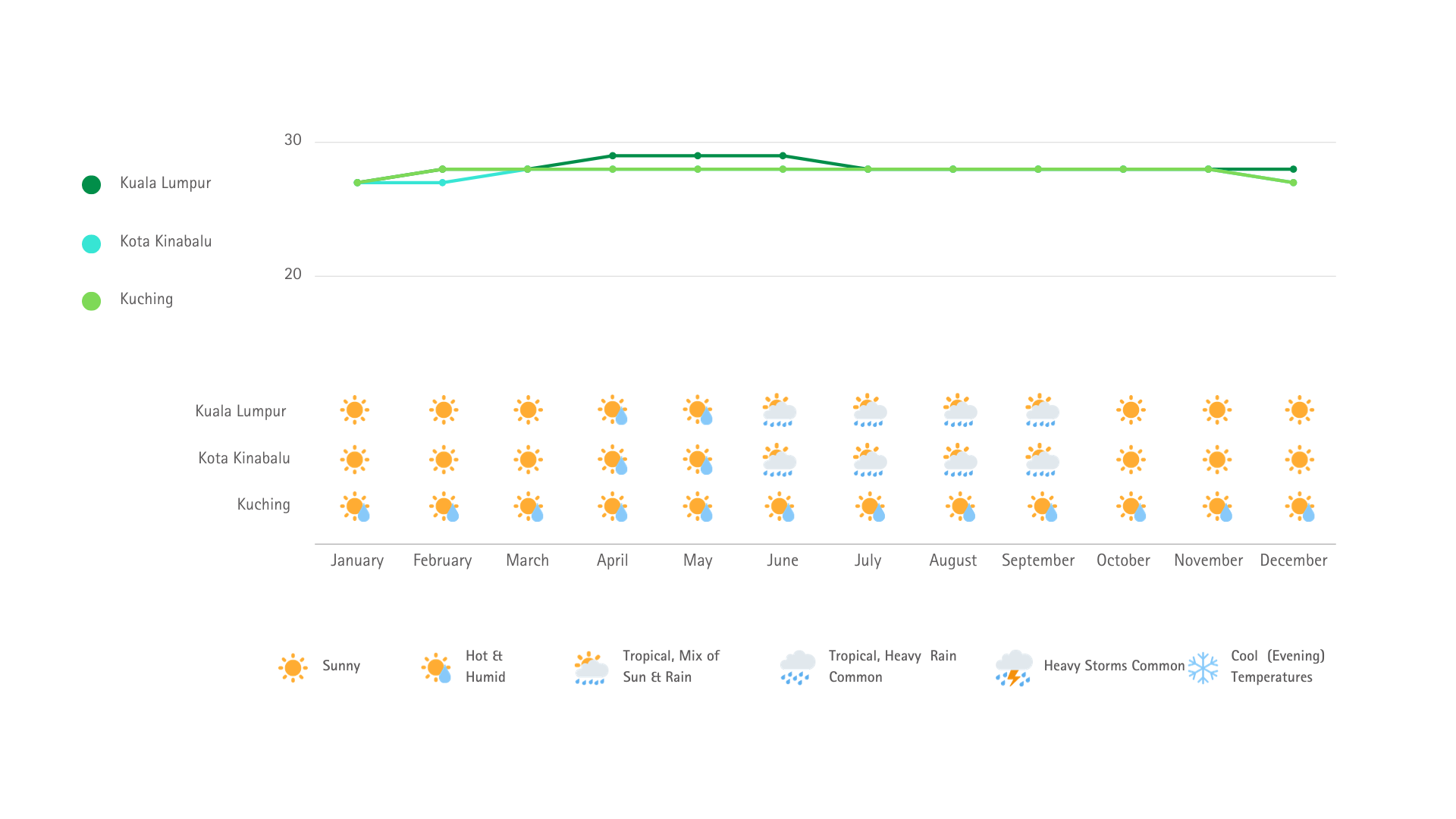 Recommended Hotels
Four Seasons Resort Langkawi

Tucked away within a UNESCO World Geopark, our resort's Malay-style pavilions and villas offer both quiet, romantic havens for lovebirds as well as versatile family-oriented retreats.

The Majestic Hotel Kuala Lumpur

The Majestic Hotel Kuala Lumpur includes the original Hotel Majestic, which is documented as a national heritage site. This colonial structure was built in 1932 and became one of the great hotels of Kuala Lumpur in its time. An icon of Malaya's boom years leading to World War II, the hotel came to be the place for glamorous social events, government receptions, and the residence of prominent international visitors. The Majestic Hotel Kuala Lumpur is positioned to share the glamour, heritage, and success of its predecessor as a YTL Classic Hotel.

Shangri-La Rasa Sayang, Penang

The resort features 304 premier guest rooms and suites spanning two distinctive wings furnished in traditional Minangkabau style. Delicately carved fixtures and colorful fabrics create a serene and welcoming tropical haven. The resort provides all the elements to completely switch off and unwind in style. Indulge in a traditional spa ritual and emerge rejuvenated, ready to tackle a hike through pristine rainforests or enjoy a game of golf.
Tour East Malaysia
Address
A division of Japan Travel Bureau (Malaysia) Sdn Bhd.
Unit 16.02-16.07, Level 16 AMODA, 22 Jalan Imbi, Kuala Lumpur, W.P Kuala Lumpur, 55100 Malaysia
Our Team Members
Kiyoshi Fujita

Managing Director

Emmiley Amadeus

Assistant Manager, Global Inbound Business

Mircel Jinol

Inbound Operation Executive